When the See you at Six line was released, I immediately ordered a few meter at the
Stoffenmadam
(
she
was kind enough to pick them up for me). I really love the feel, drape and prints of the new line. I liked it so much that I wanted some for me as well. But what to make, I wanted something that would show of the drape of the fabric. When I came across the Natasha from EYMM I knew I found a match.

The Natasha is originally a pattern for jersey, but it works perfectly with this non-stretchy viscose. I did not have to change anything on the pattern to make it work with jersey. I did lower the front neck line a bit though. The pattern is very different from the jersey dresses that I usually sew. There is a huge amount of fabric that gets its shape by a belt. This means the dress will keep fitting me even if I loose a few kilo's (which I am seriously planning). My husband still has to get used to it a bit, but I think it is a nice addition to my wardrobe.

The dress sews up crazy quick. Because of the dolman sleeves there is actually just two pieces of fabric that you sew together. The elastic hems take a bit more time, but you can still easily sew the whole thing in under an hour. I should have spend some time on re-ironing the dress just before I made pictures though. The fabric wrinkels much less than normal cotton, but just throwing it on a shelf for a few days was not the best idea.
The kids are back in school and parents and caregivers everywhere are excited to catch up after summer break! Use coupon code PARENTSROCK to save 50% off any adult-size patterns for
men*
and
women*
now through 11:59pm PST Tuesday 9/13/2016. This offer may NOT be combined with other offers including bundles.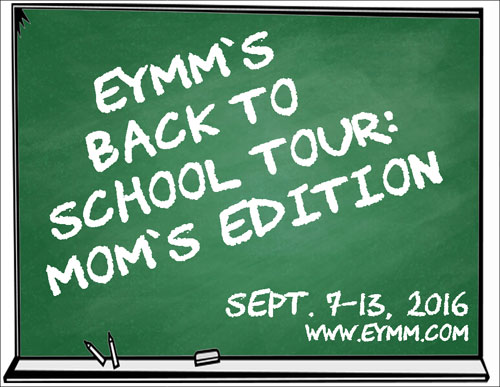 Don't miss any of the posts on EYMM's Back to School Tour: Mom's Edition! (Note: the links below will not work until their scheduled day, but feel free to click through and check out the rest of their blogs anytime!)

Feel free to leave a comment in the language you prefer (although Google translate might have to assist me if you choose something different than English, German, Dutch or Hungarian). If you buy anything through my affiliate links (*), I get a small commission (the price stays the same for you), I am very grateful for everything that feeds my fabric addiction.